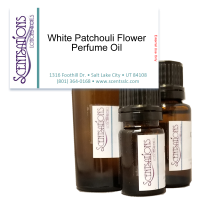 White Patchouli Flower Perfume Oil
The classic, rare patchouli is given a 21st century makeover in this sensual, smooth blend of sleek woods, refined white flowers and fresh citrus that is at once seductive, elegant and easily wearable. Natural sandalwood and white musk to give the scent its sensuously rich core, while alluring jasmine, rose absolute, muguet and ylang ylang give it sophistication and elegance. A splash of natural orange and bergamot oils capture the attention and lure you into this intoxicating and compelling journey.
Available in five different sizes
Small, 5 ml (approx. 1/6 oz.)
Medium, 15 ml (approx. half oz.)
Large, 30 ml (approx. 1 oz.)
Dram, 3.7 ml
Roll-on, approx 1/3 oz or 10 ml. Perfect for applying without using your finger tips.
You can use this oil in any of our
diffusers
to spread the fragrance throughout a room. This oil is also available as a fragrance in most of our bath and body products.
Our perfume oils are concentrated and not intended to be used as body oils. If your skin is sensitive to oils, or allergic please perform a simple test by applying a touch of the oil to the inside of your forearm to see if it irritates your skin.
This oil may stain clothing or cause damage to furniture or flooring if spilled.