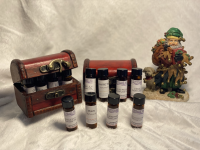 Perfume Sample in Wood Box Trunk
Why not to try our perfume oils before you buy them!
One of the most difficult things about buying perfume oils online is that there is no way for you to smell them or wear them to see if it is good for your personal chemistry.
Our sample collection of 8 scents each are in a dram vial. It gives you enough perfume oil to wear it several times and see if it is a good match for you.
What is include: Sample One                     or                Sample Two
In a Wood box Trunk,                                                  Wood Box Trunk
8 drams each of                                                          8 drams each of 
Blackberry Sage Perfume Oil                                         China Lily Perfume Oil
China Lily Perfume Oil                                                   Egyptian Musk Perfume Oil 
Graceful Perfume Oil                                                     Graceful Perfume Oil
Italian Blood Orange Perfume Oil                                 Himalaya Perfume Oil
Oud Riche Perfume Oil                                                 Mahogany Perfume Oil
Rain Perfume Oil                                                           Rain Perfume Oil
Vanilla Perfume Oil                                                        Vanilla Perfume Oil
W
hite Tea Perfume Oil                                                   White Tea Perfume Oil