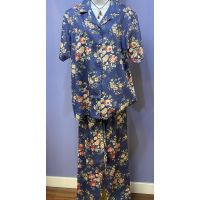 Pajama Set - Del Rossa Blue Chambray Flowers M
Made from comfortable woven cotton, this pajama set will keep you fully covered and cozy all year long. Woven cotton is lightweight, breathable, and easy on your skin.
100% Cotton

   

LIGHTWEIGHT AND COOL - This pajama set for women is made from lightweight 120 GSM woven cotton fabric. Enjoy the comfort of cotton all year long.
FULL BUTTON FRONT TOP - This soft pajama set features a full button down top that is easy to get on and off. This great feature also makes this pajama set perfect for nursing your newborn because you can easily open and close it to suit your needs.

ELASTIC WAIST - These pj bottoms feature an elastic waist to make relaxing as comfortable as possible. Even if you are staying at the hospital or recovering from surgery, you can trust that the elastic on these pants is secure enough to hold your pants up without digging into your skin.

Size: M