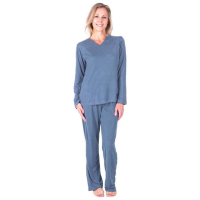 Pajama Set-Cool Jams - Long Sleeve Pajama Set V Neck, Dusty-Peri, M
This sweat wicking pajama set features a scoop neck top with matching bottoms made using the unique Cool-jams™ smart fabric technology that is scientifically woven into each fiber of the soft, silky fabric, creating a comfortable fit that also wicks away moisture from the skin. 


Not only is this women's moisture-wicking sleepwear set a great option for those struggling with night sweats, it is also lightweight and wrinkle-resistant so that you can easily bring it with you while traveling. Stay cool and dry while at home or on the road with this comfy and cooling pajama set. Pant inseam length 30".

Cool-jams™ wicking technology - absorbs moisture, keeps skin cool and comfortable all night long and eliminates body odor-causing bacteria
T-shirt and long pajama pants set
Scoop neck T-shirt
Pant inseam length: 30"
New embossed vine print 
Relaxed elastic waistband
Smooth, silky cotton-like feel
Dries 4X faster than cotton
Lightweight, wrinkle-resistant, quick-drying material
Size M
Women's moisture-wicking sleepwear set weight approximately 11 oz.