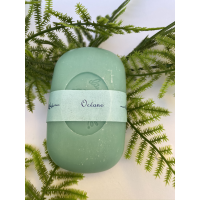 La Lavande Océane Curved Boutique French Soap 100g
La Lavande Océane Curveb Boutique French Soap 100g.
This marvelous soap reminds us of the fresh scent of the Ocean and brings back carefree memories of the seashore. Both men and women will appreciate this revitalizing and nourishing soap. 
The triple milling insures a rich lather and makes it long-lasting. The form of the soap fits comfortably in the palm of the hand. Beneficial for all skin types, especially dry or sensitive ski
Description:

The region of Provence in the South of France is known for high-quality French soaps that have been perfected by many generations of traditional soap making.  In Provence, lavender covers the hillsides and essential oils perfume the air.  Local flowers are distilled and infused into all natural ingredients creating the base for La Lavande French Soap Bars.  At La Lavande, we produce all natural soaps without detergent drying substances or synthetic oils.  La Lavande uses high quality vegetable oils that nourish and replenish all skin types.  These moisturizing soaps and cleansing bars are triple milled making for a soap that lathers well, is gentle enough for your face and is long lasting.  Available in a variety of shapes, sizes, and delightful scents.  La Lavande face, hand and body soaps are made for the whole family to enjoy.
La Lavande Family, Making Fine French Soaps Since 1986…
Artisanal, high-quality soaps with the finest all-natural ingredients

Made with natural botanical exfoliants, essential oils and blends of fragrances 

Moisturizing soaps with nourishing vegetable oils such as Shea Butter, Olive & Sweet Almond Oil

Beneficial for all skin types, especially dry or sensitive skin

Triple milled two times (also known as French Milled or Hard Milled) creates a long lasting soap

 La Lavande soaps do not easily dissolve in water

 Mild face and body soap with a luxurious lather

Deeply cleansing and moisturizing soap

Never made with synthetic oils; no mineral oil or petroleum, no detergent drying substances

No animal ingredients or testing

Organic ingredients whenever possible

Economical, minimal plastic and recycled packaging