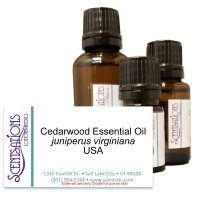 Cedarwood Essential Oil
Cedarwood Essential Oil Small (5 ml)
$5.95
Quantity:
Cedarwood Essential Oil Medium (15 ml)
$9.95
Quantity:
Cedarwood Essential Oil Large (30 ml)
$17.95
Quantity:
Juniperus virginiana, USA
Dry/woody aroma, slightly camphoraceous, smoky, balsamic. Pine-like.
Great in most blends, gives them a spirited note, while helping them to last longer. Blends well with the citrus oils, giving them a base note that very nicely complements them. Its a nice masculine note to add to aphrodisiac blends. Nice also with Rosemary, Chamomile, Eucalyptus and many more.
Warming, uplifting, and toning. Comforting and reviving. Considered an aphrodisiac in that it is grounding and inspiring at the same time. Confidence building. Long lasting, acts as a fixative (a fixative is a substance that binds other compounds, slowing down their evaporation and thereby making their fragrance last longer).
Perfumery Note: Middle/Base