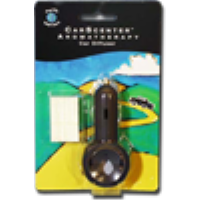 Car Scenter Diffusers are plug-in car air fresheners are one of the few plug in aroma diffusers offers a natural alternative to artificially scented car air fresheners. The diffusers plugs into any cigarette lighter or electrical outlet and gradually warms the heating element in the aromatherapy diffuser.
When using essential oils with Car Scenter aromatherapy car air fresheners, drivers are more likely to feel energized and alert while driving than when using chemical fragrance air fresheners. Stay safe, go natural!
Can be used with any of our vast selection of Essential or Perfume oils. Includes 10 diffuser refill pads.