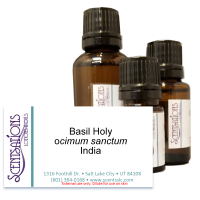 Basil Holy Essential Oil
Basil Holy Essential Oil Small (5 ml)
$8.95
Quantity:
Basil Holy Essential Oil Medium (15 ml)
$22.95
Quantity:
Basil Holy Essential Oil Large (30 ml)
$45.95
Quantity:
ocimum sanctum, India
The aromas of the various Basils are so different that it has been suggested to classify them according to the aroma, instead of botanical relationship. This basil is quite different, not as pungent as the other two, but rather sweet, spicy and round, with notes that are even reminiscent of Clove/Cocoa.
Blends Well With:Lavender, Clary Sage, Thyme, Cedarwood, Bergamot, Geranium, Hyssop, Orange, Rosemary.
Aromatherapy Properties: Warming and toning. Restoring peace of mind and counteracting depression. Clarifying, uplifting, energizing. Can be irritating to the skin, so avoid high concentration.
Non-toxic in moderate concentration. Use in really small amounts if applied to skin. Avoid if pregnant.
Perfumery Note: Top